Dr. Phyllis Hendry is a tenured Professor of Emergency Medicine and Pediatrics at the University of Florida College of Medicine in Jacksonville. She completed her pediatric residency at Louisiana State University Medical Center in Shreveport followed by a pediatric emergency medicine fellowship at University of Florida Health Science Center/Jacksonville. She served as Director of Pediatric Emergency Services at UF Health from 1993-2005 and since 2008 has been Assistant Chair for Emergency Medicine Research. In March 2016 she was appointed TraumaOne Deputy Medical Director of Pediatric Transport.
Dr. Hendry served as a founding medical director for a regional pediatric hospice and palliative program, Community PedsCare from 2005-2007. She was the Medical Director for Florida Department of Health's EMS for Children program from 1999-2005 and continues to serve on the Florida EMSC Advisory Committee. She has been a textbook editor and contributor to numerous pediatric life support courses.
Dr. Hendry's research initiatives include serving as principal investigator (PI) for the Pain Assessment and Management Initiative (PAMI) and the Pediatric Emergency Care Safety Initiative (PECSI). She has been the PI for numerous federal (NIH, HRSA) and private grants as well as clinical trials totaling over 6 million dollars. Her areas of interest include pain management, injury prevention, patient safety, health literacy, pediatric trauma and emergency care, bereavement and end-of-life care.
Dr. Hendry serves on numerous national, state, and university committees. In 2015, she was awarded the University's Robert C. Nuss Research Scholar of the Year Award and in 2017 received a UF Term Professorship.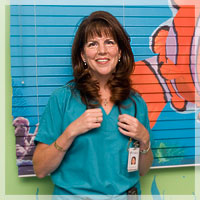 Title: Medical Professional
University of Florida
Related Topics
Email: phyllis.hendry@jax.ufl.edu