Cover2 Resources Podcast | Season 2 | Coming July 28, 2016
In Episode 8 of the Cover2 Resources Podcast, Greg recaps everything we covered in Season 1. He also preps us for Season 2 of the Cover2 Resources Podcast, which launches July 28, 2016.
In Season 2, we'll hear from Tom Stuber, CEO of The LCADA Way to Wellness in Lorain County, and Ed Hughes, CEO of Counseling Centers in Portsmouth, Ohio. Between them, Ed and Tom have over 73 years of experience in addiction recovery services. I asked both of them to review Sam's admittance assessment for both treatment facilities where he completed treatment. Their insights on Sam's diagnosis and what they would do today were surprising.
We'll also hear from IBH, the first facility where Sam completed treatment. We'll get their thoughts on what Sam's program would consist of today.
We'll also talk with Emily Metz, the Project DAWN Program Coordinator from the Cleveland Metro Health Medical Center. She will discuss how Project DAWN is saving lives with Narcan.
Ohio Representative Robert Sprague will join us to talk about Ohio laws that have recently been passed to help fight the opioid epidemic.
And finally, we'll hear from William Denihan, the leader of the largest alcohol, drug addiction, and mental health services board in Ohio. Bill will share his insights on the opioid epidemic as a CEO and former Chief of Police in Cleveland.
So please join us July 28th for Season 2 of the Cover2 podcast. As always, thank you for listening.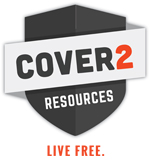 GREG MCNEIL
Founder
T  877-901-3277 | F  330-963-7160 | C  330-351-1328
greg@cover2.org
www.cover2.org