A recent overdose crisis in Cincinnati, Ohio on August 27, 2016 made headlines after the city dealt with 78 overdoses over a span of 2 days. The USA Today article on the tragedy referenced the outstanding overdose statistics of Hamilton County, located just north of Cincinnati. The county reported having a 35% decrease in overdoses compared to just last year.
Greg interviews Daniel Meloy, the Director of Public Safety for Colerain Township in Hamilton County, to ask how his township is beating the odds in the face of the growing opioid epidemic. Daniel has over 25 years of experience at the Police Department of Colerain Township, the 14th largest community in the state of Ohio. Since 2013, he has been the Director of Public Safety where he has the honor to serve with both the Police and Fire Departments.
Daniel discusses how his communities' unique teamwork approach is making a difference in the growing opioid epidemic. "We can do something; it's not rocket science. It's a matter of getting involved, associating with good people and making something happen. We serve a multitude of victims. Whether it be those living the addictive lifestyle or family and community members that are subject to the fallout of addiction," says Daniel. "It has been a learning process since 2014. We realized we needed to change our perspective. We work together and problem solve as a solution, rather than being overwhelmed by the situation."
As someone familiar with the reality of the epidemic and its wide-reaching nature, Daniel discusses what he has learned about opioid addiction. "I really didn't have a lot of empathy for the folks who were committing the crimes. They were causing a lot of issues in our community. But when you step back and look at the problem, you realize it is a brain chemistry issue. It is a disease," says Daniel. "70% of the people in this addictive lifestyle were prescribed to medication. It is scary. It really shows you it can happen to anybody."
Greg asks Daniel how he handles being near a community exploding with overdose cases. "It is kind of a one-step at a time method. You have to crawl before you can walk. As we started meeting people in this world of addiction, we partnered up with a group called The Community Recovery Project," says Daniel. "They created a resource document, what we call our Recovery Resource Packet. So families know who to call, what can they call and know that they can get something at the time of the incident. They don't have to be helpless or wonder where to turn."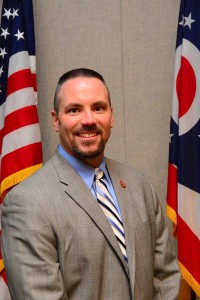 Daniel Meloy is an Assistant Township Administrator and Director of Public Safety in Colerain Township, Ohio.  He served as Chief of Police in Colerain for more than six years before he was promoted in 2013 to oversee both Fire and Police Departments as the Director of Public Safety.  He is a Certified Law Enforcement Executive in the State of Ohio and graduated from the 223rd Session of the FBI National Academy.  He holds a BA from University of Cincinnati and a Master's Degree in Public Administration from Northern Kentucky University.